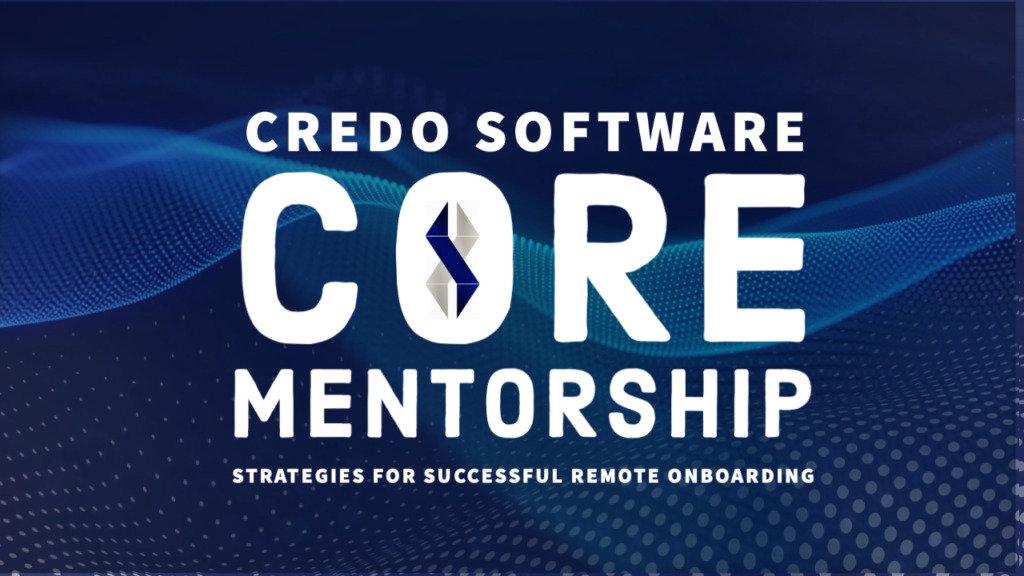 COMMUNITY
At the heart of Credo is a culture of community. Credo Software was founded as a flexible working environment for friends and family. 22 years later as we strive to build from the lifestyle to a legacy company, nurturing the growth of the community is important. Onboarding new hires through mentorship is vital, especially in the hybrid work environment.
"The greatness of a community is most accurately measured by the compassionate actions of its members,"

Coretta Scott King
WHAT COMMUNITY MEANS TO CREDO SOFTWARE:
Credo team members are Creative, Conscientious, Community-minded. Credo team members are invested and glean much from each other. Credo's one on one mentorship nurtures engaged community and active collaboration.
Through collaborative relationships, our external community of clients and technical partners has grown. Credo employees recognize the importance of listening to our clients. Some of the best ideas come from our clients. Credo builds trust while collaborating with our clients. Credo enhances the manufacturing community with award winning software. Developing value added relationships with integrity is the essence of our motto "Believe and Innovate".
Through our Credo Cares initiative, our efforts to do more in the Community expanded. Credo has a vision to create a legacy as an IMPACT corporation. As Credo onboards new team members, mentors will encourage supporting local charitable organizations and the community with time and resources. Credo is a trusted smart mobility integrator with a heart for our Community.
OPPORTUNITY
Credo communicates tech talk into laymen's terms. Effective communication creates opportunity. Mentorship is more than to training someone from technical point A to technical point B. Team members listen to strategic suggestions from mentees for improving current processes. Mentorship initiates positive outcomes from the experiences of others.
"A pessimist sees the difficulty in every opportunity; an optimist sees the opportunity in every difficulty."

Sir Winston Churchill
DEVELOPING OPPORTUNITIES FOR CREDO SOFTWARE:
Credo is so thankful for the word of mouth opportunities that have come from existing and past clients. As Credo mentors future team members, it is necessary to examine ways that these opportunities have come to fruition.
Never despise the day of small things.

Zechariah, ESV
No project is too small if a relationship can be built. Credo's launching contract started as two week project. Over twenty years later, Credo is a trusted supplier for rapid application development. Successful collaborations have grown our network of relationships. Mentorship allows Credo to scale up for manufacturing opportunities.
Credo doesn't chase clients. We follow strategic leads from our ever expanding network of professionals. Our opportunities come from the not just from strength of those relationships, but the quality of our work. Credo will not sacrifice quality for growth opportunity.
As Credo scales up, our CORE mentorships will protect the integrity of our solutions. Full life-cycle mentorship develops value added outcomes.
RESPONSIBILITY
Mentorship is more than shared experiences. It is a responsibility to enable new team members with the freedom to succeed on their own. Mentors lead by example. True leadership provides clear direction.
"Privilege is here, and with privilege goes Responsibility."

John F. Kennedy
NURTURING RESPONSIBILITY AT CREDO SOFTWARE:
Credo has a saying "It's always the programmers fault." This philosophy is mentored in three stages.
Humility is key to collaboration.
There is always room for continuous improvement.
Striving for excellence means recognizing the need for correction.
Credo views treating each client with respect as a responsiblity. This mindset creates a comfortable space for collaboration with our clients. Training developers to respect other professions is vital. This respect drives innovative engagement with our clients.
Adversity is not something to be feared, but rather a springboard for success. The opportunity for growth was very clear during the pandemic. Working together, Covid related needs were addressed. The Credo CORE mentorship provided rapid adaptable design when it was needed most.
Mentorship continuously reduce development time and improves each line of code. CORE mentorship grows new team members to onboard to the next level.
EXPECTATIONS
An integral goal of mentorship is the realized expectation of growth and development. With a path of strategic milestones, mentorships provide hands on involvement. This can be examined at the end of each stage of development. Credo is motivated to see each team member exceed expectations on their technical journey.
"People don't do what you expect but what you inspect."

Louis V. Gerstner, Jr.
CREDO MENTORSHIP REALIZES GREAT EXPECTATIONS:
Expectations can not be met if expectations are not set. The Credo CORE philosophy is designed to onboard new team members to what it means to be a Credo team member. Past and ongoing projects are used as guidelines for mentorship. Client needs and expectations are explained. Open points lists show newly assigned tasks. Through a successful mentorship, expectation of project ownership will be mirrored by mentor. With guided milestones, mentorship maps out actionable successes.
Open communication with mentor sets expectations. Defining technical standards in CORE mentorships is key. This trains new team members to the quality and best practices expected. Mentorship creates open dialogue to promote creative innovative solutions.
After onboarding, new Credo team members continue to work along side their mentors. The Credo community is strengthen by this collaboration. With CORE mentorship and new clients, Credo will sustainably and responsibly grow.
"A mentor is someone who sees more talent and ability within you, than you see in yourself, and helps bring it out of you."

Bob Proctor